I have vivid memories of summer camp as a kid. I didn't go to "sleep away" camp like so many other kids did, but there was a county park near my house that had a day camp that my sister and I would sometimes attend.
I remember on those super hot, humid Florida summer days, the joy of an orange soda and arts and crafts time inside the park's community center. We would fashion birdhouses out of popsicle sticks, tie-dye our t-shirts, and of course, make lanyards and keychains. The counselors would give us the plasticky cord and we'd go to town until we had something like this:
So when I saw the Accordion Strands necklace at Anthropologie, something seemed strangely familiar: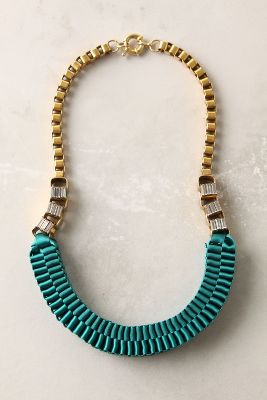 That's right, it's a box braid! I was officially inspired and decided to see if I could still remember the technique I learned in summer camp so many years ago. I came up with this:
I'm currently working with narrower ribbons on another box braid project. I'm not sure yet what it will be, but it's going to take a while!